Le Maillon d'Hautepierre rouvre ses portes avec une FUNK'IN PUMPKIN PARTY
Par Jean Daniel BURKHARDT le mardi, novembre 3 2009, 13:29 - FUNK - Lien permanent
Fermé il y a quelques années par un incendie provoqué par une voiture bélier dans la bibliothèque et le théâtre, le Maillon Hautepierre rouvrait la semaine dernière grâce à l'association Soundsitiv, qui y proposera en janvier une programmation artistique basée sur les échanges entre les arts musicaux, urbains, picturaux et théâtraux. Pour la réouverture, la programmation originale (DJ Flying Fileas alternant avec trois groupes locaux : Soulfight-Gothic Soul, Julie Claden-chanteuse Funk Soul Groove et 7ème Soul-formation Funk Soul à la bonne section de cuivres) illustrait trois modernisations locales de l'esprit Soul.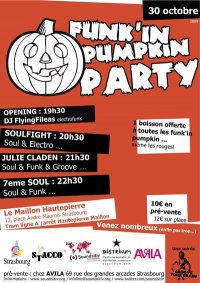 Tout d'abord, on a pu entendre Soulfight, formation créée en 2007 par: Aalik (voix, basse, guitares, et claviers) et Slybwoy (sampling and sound tweaking , art work) et la chanteuse Mélody dite Lil' Sugar, rejoints par Alex à la basse pour la scène.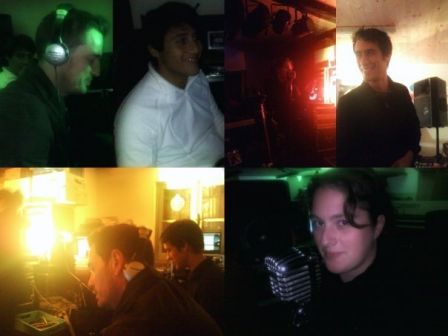 Slybwoy et Aalik viennent du monde de l'image, et ont appliqué aux compositions de Soulfight des procédés habituellement visuels de collages de samples.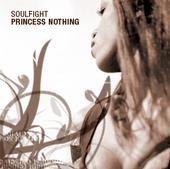 Dès les premières notes de claviers et les samples vocaux de « Princess Nothing » (interprété lors d'une prestation aux Nancy Jazz Pulsations), on entend avec une guitare Coldwave à la A Forest de The Cure, une de leurs influences new Wave (c'est quand même presque Halloween). La chanson parle d'une petite princesse idiote. En effet, Mélody la sublime du Lil Sugar (petit sucre) de l'émotion de sa voix veloutée et mélancolique.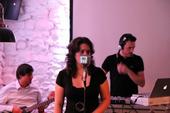 «I'll Rise » est plus proche d'une autre influence du groupe, « Massive Attack », qui inventa le terme de « Gothic Soul » avec sa rythmique trip-hop et sa montée de claviers sur la basse funky. Aalik prend le rôle de Tricky asthmatique sans ventoline dans « Pumpkin » dans son vocal Hip Hop, etandis que Melody/Lil Sugar chante de manière aussi émouvante et sensuelle qu'Allysson Goldfrapp, une de ces chanteuses qui illuminent les deux premiers albums de Massive Attack et m'y font fondre, ou Portishead dans « Glory Box ». Mais la chanson parle d'une rupture amoureuse dont l'homme promet qu'il se relèvera.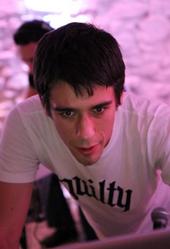 A un autre moment, Slybwoy introduit un sample de voitures dans le martélement dramatique du clavier sur la rythmique breakbeat d'une mélodie lente, envoûtante, vénéneusement persistante dont Lil Sugar est la sirène portée par les vagues sonores.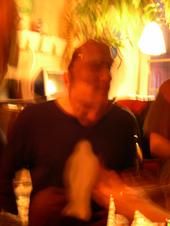 Slybwoy introduit encore une ambiance de sanglots et souffles étouffés installent une ambiance sur des cris lointains, tandis qu'Aalik prend sa guitare, accompagnés de pas sonores dubbés, solitaires et fuyants, puis de plus en plus lourds comme les éléphants d'Hannibal ou ceux d'une armée dans des vagues de brumes fumigènes.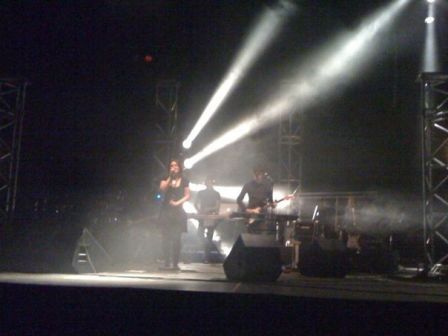 La basse lourde et la guitare commencent « Tears On The Ground », autre émouvant duo de Lil Sugar et Aalik, sur le terrorisme, où deux terroristes sont prêts à agir, le garçon dit qu'il est temps, mais la fille pense aux futures victimes et prend peur, renonce, avec une belle voix ethnique en fond. Leurs chansons sont dramatiques dans leurs progressions comme des films sonores, racontent des histoires de notre monde troublé.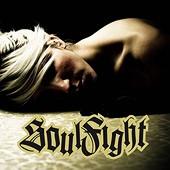 Les lumières scéniques envoient des feux d'artifices rougeoyants autour d'eux sur une voix féminine samplée qui glisse, comme lisse. Mélody s'envole les bras étendus, puis sa voix puissante, profonde et orientale à la Dead Can Dance. Comme sa chanteuse Lisa Gerrard, Lil Sugar trouve pour "The Island" (critique de la télévisision comme une île déserte et autistique) au fond de sa voix la ferveur de musiques traditionnelles ou de spritualités apatrides car issus d'un folklore imaginaire qui leur est propre, se dédoublant, croisant le chemin des folklores existants, mais touchant universellement par leur émotion, accédant à un au-delà tribal urbain des langues et des traditions connues …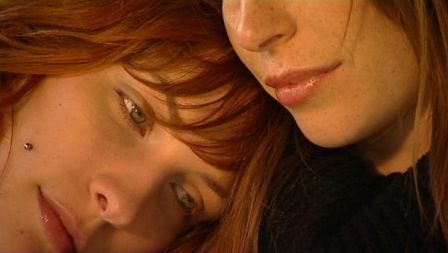 Lil Sugar chante ensuite « My (Little) Secret », autre chanson à secret où l'héroïne cache un crime qu'elle aurait commis sur la guitare wah wah, avec une voix à la Björk.dans sa fragilité Nordique. Slybwoy et Aalik ont écrit le scénario du futur clip de cette chanson, dont voici quelques photos, qui sera bientôt réalisé, et nous en apprendra plus sur ledit secret.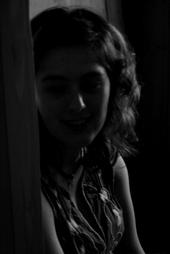 Ils terminent par un sample en référence au Cinéma (David Cronenberg et Lost Highway de David Lynch, qui leur inspira « Ghost Highway » font aussi partie de leurs influences pour les ambiances sonores). Ils terminent par la musique de la scène finale de « Shining » de Stanley Kubrick, avec Jack Nicholson, musique à la fois Jazz nostalgique, européen par Ray Noble, avec un crooner sirupeux (« Midnight with the stars and you »), mais rendu inquiétant par le traitement sonore fantomatique et nébuleux et les réminiscences du film.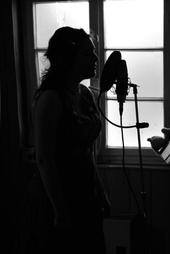 Bref, Soulfight a prouvé qu'il avait un véritable univers fascinant à la fois séduisant et inquiétant, toujours émouvant.
En seconde partie, on pouvait entendre Julie Claden, qui vient de sortir son album « Behind The Line », avec la guitare funky de Kevin Weiss, accompagnée de Pilou Würtz à la basse électrique, et à la voix plus Soul.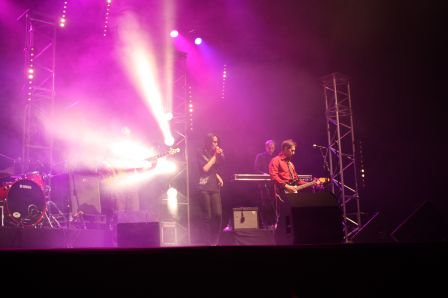 Grande et très belle, ses jambes immenses de libellule perchées sur des hauts talons, elle a un jeu de scène gracieux aux mouvements de bras amples comme les ailes d'un oiseau.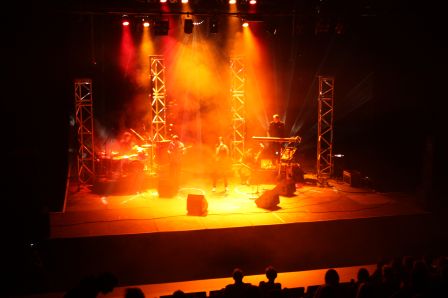 Toutes ses chansons, aux textes en français, composées avec le pianiste de l'album Emmanuel Hoff et Gérard Raufast, parlent de la quête de soi, spirituelle et musicale, et du courage de s'assumer ensuite comme ce que l'on est sans concession.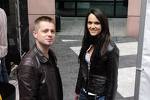 Elle commence « Behind The Line » ( titre éponyme de l'album interprété sur l'album avec la bonne attaque variée de Franck Wolf au saxophone et Serge Haessler comme section de cuivres à la Prince efficace et Grégory Ott sur la version acoustique et les chœurs des « Clac-Hoff »), sur laquelle elle s'envole sur la rythmique en français après le refrain en anglais sur sa renaissance grâce à cet album.

Plus Bluesy, « Chacun Sa Place » parle aux autres avec compassion et tolérance, s'ouvre aux autres, les invitant à dépasser comme elle la fatalité malgré la dureté et la violence du monde, à prendre le contrôle de leur vie, parce que « chacun a une place, sa place ». « Ça 's passe » parle aussi de cette prise risque pour devenir soi-même, malgré la frilosité des autres qui disent de ne pas y aller.

Plus calme et émouvante, « Mémoire » remonte au plus profond de ses souvenirs, de son histoire, jusqu'à la Shoah, puis « L'Empreinte De Cette Terre », plus ethnique et orientale, avec des voix orientales envoûtantes entre Real World et Dead Can Dance dans les violons arabisants, parle de son voyage initiatique au Maroc, aussi spirituel que géographique, jusqu'à l'illumination de la découverte du désert et de l'Atlas, avec un beau texte et une belle progression dramatique. Finalement, si ce n'est plus du Funk, c'est une façon aussi de l'orientaliser, de le faire voyager en d'autres contrées, de lui offrir d'autres paysages, moins urbains grâce à cet excellent arrangement. La Soul l'âme s'ouvre à ces ailleurs, à l'Orient, et à la propre histoire de Julie Claden.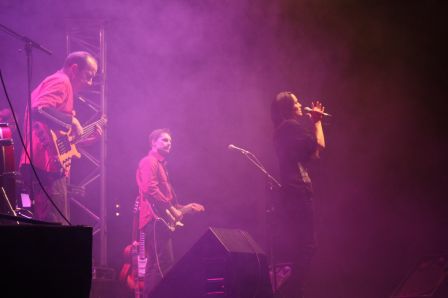 Finalement, Julie Claden a investi le Funk et la Soul de ses mots, de ses expériences, les a fait siens par cette quête de soi jusqu'à s'assumer totalement, de « Troque Ton Groove » scandant «Secouée, Obsédée» repris avec le public, sa passion de cette musique jusqu'à « J'me casse la gueule pour y arriver », à « L'Expérience » d'être elle-même envers et contre tout et tous et d'inviter les autres à faire de même dans « Chacun Sa Place », puis à s'élever enfin contre toutes critiques dans « Je Transgresse », s'assumer comme elle-même avec courage et splendeur. Cela donne à son album, et à sa prestation qui le fait partager, l'aspect d'un concept album ou «album d'apprentissage » comme on dit de certains romans, dans le partage avec les musiciens et le public.

Elle a tracé dans le Funk et la Soul son propre chemin, faisant sienne cette musique née dans la revendication des droits civiques noirs et depuis non pas obsolète mais obtenue aux Etats-Unis, l'a intégré en elle-même pour raconter par chansons-flashs sa propre histoire jusqu'à l'acceptation d'elle-même, du collectif à l'individuel, au collectif, puisqu'elle les invite à faire de même.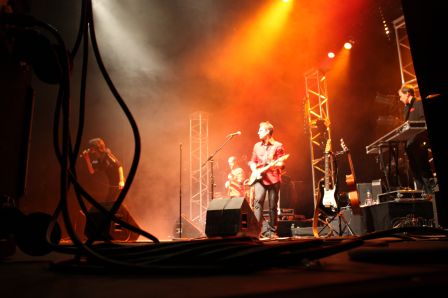 Si elle n'est ni noire ni Aretha Franklin, au moins a-t-elle habité cette musique, puis l'a habillée de ses propres mots, faite sienne, ce qu'aucune chanteuse Funk ou Soul n'eût pu faire à sa place, n'étant pas elle, et inversement. Finalement, Julie Claden touche par son univers, son courage et son énergie sur scène et ses textes simples mais forts et sincères.
En troisième et dernière partie, on pouvait entendre le groupe Soul Funk 7ème Soul (parce qu'ils sont 7 et vous mènent au 7ème ciel de la Soul), qui a déjà joué au Parlement Européen et au Palais de la Musique et des congrès, tout à fait fidèle musicalement aux grands noms de cette musique tant dans la rythmique de Lionel MEYER (Guitariste) François KOEHLER (Bassiste) et Vivien RAUCH (Batteur) que dans la mise en place impeccable entre Rythm'N'Blues et JB's de la section de cuivres (le plus difficile dans le funk, car elle remonte au Jazz, et même aux parades de la nouvelle Orléans comme la garante de l'authenticité de la Black Music) de Luc HENRY (Saxophoniste) Melanie DECQ (Tromboniste) et Alexandre SCHMITT (Trompettiste) , et aux textes en français composés par le chanteur Raphaël Bloch au total look Blues Brother (costume et chapeau noir, cravate noire et chemise blanche, lunettes de soleil). On sent que la Soul Music et le Funk, c'est sa vie, jusque dans un rapport spirituel à la musique, comme peut l'être le Rastafarisme pour certains fans de Reggae.

Ils commencent par « Se réinventer », aux bons cuivres bien en place, sur le dépassement d'une rupture amoureuse, citant même l'ivresse Baudelairienne « de vie, de poésie, de vertu » pour oublier. La Soul Musique est la musique de l'Âme (Soul en anglais) humaine, de ses chagrins profanes et sentimentaux, adaptée du collectif noir à l'individuel universel), avec une belle introduction et un solo de trompette d'Alexandre Schmitt (ancien élève de Serge Haessler en trompette classique). Les textes de Raphaël Bloch parlent à l'âme humaine de ses soucis universels avec simplicité et force, et cette Soul dans la voix qui rendaient Otis Redding et Marvin Gaye irrésistibles. Simplement parce que Raphaël vit et traduit à la manière de cette Soul Music.

« Chacun sa Reine » à la basse bien slappée et à la guitare funky, tous cuivres dehors, fut écrite par le cousin de Raphaël Bloch, et on y trouve cette phrase d'une poésie assez surréaliste : « Elle a mis du sel dans ma vie de girafe » ! On a pu entendre aussi un bon solo de saxophone sur la guitare wah wah.

Ils jouèrent ensuite « Rencontre », sur une rencontre d'un chanteur Soul avec une chanteuse qui se voient d'abord sur scène, avec un bon solo de guitare.
Mais il leur arrive aussi de mêler la Soul à d'autres musiques plus latines comme la Bossa nova sur la clavé Brazil de la batterie sur « Toutes Ces Habitudes » qui appelle au courage de casser sa routine pour suivre sa propre voie vers sa passion, comme le fait Raphael Bloch, à ne pas se contenter d'êtres des parodies, des clones. Le mélange en tous cas est réussi et irrésistible, à la Banda Black Rio (le meilleur groupe de Funk Brésilien à mon sens) dans la section de cuivres un peu en arrière presque Ethio-Jazz ou fanfares dans cet habile décalage faisant sonner les mots du chant avant un bon break à l'ancienne et un bon solo de trompette. Ça groove bien souplement sur cette Soul Funky et légèrement Tropicale.

« Jeu de Maux » parle aussi d'une relation entre deux personnes pas toujours simple. La Soul est, comme le Blues, le dépassement de la souffrance par la catharsis musicale, mettre des mots sur les bleus de l'âme pour les rendre plus supportables, ou au moins les partager avec le public, en faire de l'art, avec un beau solo de trombone lent de Mélanie Decq (que tout le monde appelle Miel, aussi venue du classique après un passage par le ska festif).

Raphaël Bloch est avant tout un « Fan De Soul », d'Otis Redding, qui respecte jusqu'aux origines de cette musique dans l'intro comme un chœur de Gospel de « voix noires » passé dans le Jazz et le Do-Wop, puis dans la Soul, et qui évolue ensuite en Funk sur la guitare, refait tout le parcours ce ces musiques noires, « fan de soul et de Funk », de ce Soul Power de James Brown, montre qu'il en connaît aussi l'origine. Ils ont amené aussi un nouveau titre (en tous cas qui n'est pas sur leur disque ou My Space), critique des rencontres sur internet avec Miel et Alex bien en place sur les riffs de guitares et au texte gentiment ironique. Les paroles de Raphaël Bloch sont aussi un avertissement pour nous et notre monde, montrent ce que le monde perd avec son âme, sa Soul naturelle, dont il est l'un des meilleurs représentants localement. «Double Jeu » (http://www.dailymotion.com/video/x9b8nn_7eme-soul-en-concert-au-parlement-e_music ) est une bonne synthèse, sur une guitare digne du Blufunk de Keziah Jones dans « Rythm Is Love » (http://www.youtube.com/watch?v=8kKZxbgBL68 ) puisqu'il y adapte dans un texte à double-sens le vocabulaire amoureux à la musique, à son désir et à son manque dans le silence où il sent encore « l'essence de sa présence » , comme les mystique orientaux parlaient de Dieu comme l'Adoré. Bernard Lavilliers a aussi écrit une belle bossa nova sur ce thème : « La Musique ». Enfin, ils terminèrent par un bis avec un scat de Raphaël Bloch.

Bref, cette soirée a montré que le Funk étaient bien présents dans la scène locale, mais plus que copiés en vain de leurs pionniers, ils avaient évolué vers la New Wave avec Soulfight, accompagné le parcours de Julie Claden jusqu'à l'Orient, et étaient toujours vivaces chez 7ème Soul, modernisés par des textes simples et universels qui parlent à l'âme, ce qui est l'essentiel…
Jean Daniel BURKHARDT